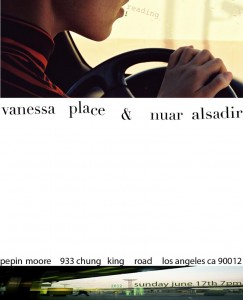 please join us for the first in our summer reading series.
Pepin Moore
933 chung king rd
los angeles
california 90012
7 pm, Sunday
June 17th
Vanessa Place is a writer, a lawyer, and co-director of Les Figues Press. She is author of Dies: A Sentence (2006), La Medusa (Fiction Collective 2, 2008), Notes on Conceptualisms, co-authored with Robert Fitterman (Ugly Duckling Presse, 2009), and The Guilt Project: Rape, Morality and Law (2010).  A trilogy of conceptual work, Statement of Facts, Statement of the Case, andArgument, is forthcoming from Blanc Press (USA). Her Factory-type chapbook series is available via oodpress (Brazil). Place is also a regular contributor to X-tra Art Quarterly, and has lectured and performed internationally.
Nuar Alsadir's poems and essays have appeared in numerous periodicals, including Grand Street, The Kenyon Review, Ploughshares, Slate, AGNI, Tin House, Lit, Gulf Coast, Ribot, The New York Times Magazine, and Book Forum. When not writing, she teaches at New York University and is training to become a psychoanalyst.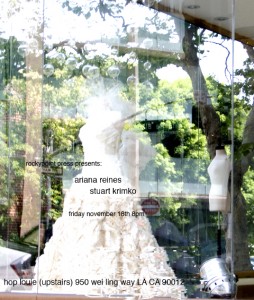 Please join us to hear Ariana Reines and Stuart Krimko read this Friday, November 18th at Hop Louie in Chinatown.  The reading begins at 8:30 pm.  We hope to see you there!
Hop Louie
950 Wei Ling Way
Los Angeles CA 90012
About
rockypoint Press is a series of artist-writer collaborations curated by Veronica Gonzalez Peña, with help from friends in Los Angeles and abroad.
rockypointpress@gmail.com
---