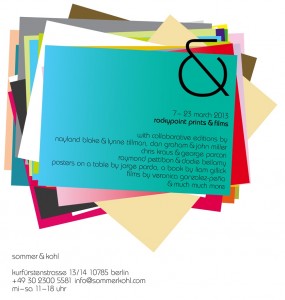 With collaborative editions by Nayland Blake and Lynne Tillman, Dan Graham and John Miller, Chris Kraus and George Porcari, Raymond Pettibon and Dodie Bellamy, posters on a table by Jorge Pardo, a book by Liam Gillick, films by Veronica Gonzalez Peña and much much more.
exhibition 7 – 23 March 2013
Wednesday–Saturday 11 am – 6 pm and by appointment
screening of Like A Shadow by Veronica Gonzalez Peña, Friday 15 March 2013, 8 pm
readings Saturday 16 March 2013, 3 pm
Lance Olsen Theories of Forgetting
Veronica Gonzalez Peña The Sad Passions
Sommer & Kohl are happy to present Los Angeles based rockypoint Press in Berlin for the first time.
On Saturday 16 March at 3 pm, Lance Olsen will be reading form his novel in progress, Theories of Forgetting, which is, among other things, the story of a middle-aged filmmaker, Amelia, struggling to complete a short experimental documentary about the Spiral Jetty. Joining him will be Veronica Gonzalez Peña, founder of rockypoint Press, reading from her forthcoming novel The Sad Passions, out on semiotext(e) this June.
For further information and/or images please contact Sommer & Kohl.